Looking for a Roatan REALTOR?
Before you need a Roatan REALTOR it would be a good thing to learn a bit about the island and this is a good place to statrt. Roatan Island may be a location that you are familiar with based on your, or someone you know, who may have visited this wonderful tropical island destination.  (Roatan has two cruise ship ports and an International Airport, (RTB).  
Things have changed over the years as they do anywhere. Roatan for years was labeled by one of the top 'travel/living' magazines in the world, as 'The Last of the Caribbean Frontiers'.  For decades it was noted as a 'remote dive destination' that the most adventurous of Divers came to visit and enjoy. After all it was located on the second largest coral reef in the world!
These islands were originally part of the British Empire. That being said we are mainly English speaking, even though they are part of Honduras a Spanish speaking country. To me it is like traveling from Ontario Canada to Montreal, where as you drive down the road the signs on the highway gradually change from English to French. Same country, different languages.
Whether you may be thinking of a retirement, investment, vacation or relocation, Roatan Island has many times over the years been noted as one of the most affordable islands in the world.   It also is ranked as the #1 island in the world to live on. 
Roatan is the perfect retirement destination. Enjoy year 'round what others indulge in over vacation – exclusive resorts, world-renowned dive sites and amazing cuisine. Relax in calm, clear waters while fishing for wahoo, mahi mahi, snapper and tuna, or perfect your golf game on an 18-hole, par-72, 7200 yard championship golf course.
Get to know our island and it will soon win you over with its brilliant ocean blues, palm tree greens, and warm tropical breezes.
Once you discover this beautiful Jewel of the Caribbean, you won't ever want to leave.
The Right Place to Find Your Roatan REALTOR
These days nothing seems to top Google Maps when it comes to showing everyone where you are located. The island of Roatan is part of the
Bay Islands
, which is in an area referred to as the Western Caribbean. Close by you will find Belize and the Cayman Islands, and a bit further off is Jamaica, mon! All of which border the Caribbean Sea. Notice the marker, and zoom in or out to get a larger viewpoint of where we are in the world.
As you can see above, Roatan is also considered to be in the Americas. Located above South America and below North America, there is an area made up of five small countries, named Central America. The island is actually off the northern coast of the Central American country of Honduras.
Getting to Roatan
The island has an international airport (RTB-Juan Manuel Gálvez International Airport), which receives both regularly scheduled flights from major air carriers, as well as seasonal charter flights.
From the United States: American, Delta, and United airlines operate direct flights to Roatan from Atlanta, Georgia (ATL-Hartsfield-Jackson Atlanta International Airport); Dallas, Texas (DFW-Dallas/Fort Worth International Airport); Houston, Texas (IAH-George Bush Intercontinental Airport); and Miami, Florida ((MIA) Miami International Airport).
Are you from the mid United States? Sun Country Airlines offers direct flights from Minneapolis/St. Paul.
Indirect flights are available through San Pedro Sula, Honduras (SAP-Ramón Villeda Morales International Airport), arriving from cities such as New York (JFK-John F. Kennedy International Airport), with American, Avianca, Delta, Spirit, TACA, US Airways, and United airlines.
From Elsewhere:  Avianca offers flights direct to the island from many Central American countries such as Guatemala and El Salvador. Alitalia, British Airways, Emirates, Iberia, Lufthansa, US Airways and United fly from Milan, Italy (MXP-Milan Malpensa Airport), connecting with other airlines in New York or Miami, to San Salvador, El Salvador (SAL-Monseñor Óscar Arnulfo Romero International Airport), and on to the island. Air Canada flys from Canada to San Salvador, to Roatan, and Seasonal direct charter flights are available through West Jet from Toronto, Canada (YYZ-Toronto Pearson International Airport). Flights originating from other countries normally connect through one of the aforementioned locations.

---
Life on Roatan
Entertainment can take on many forms.  Scuba divers and snorkelers delight in Roatan's over 150 dive sites, one of the benefits of being surrounded by a portion of the world's second largest barrier reef, The Great Western Barrier Reef.  Golfers enjoy amazing views at the world renowned Black Pearl Golf Course designed by Pete Dye. Horseback, nature rides, museums, fishing, four wheeling, and fine dining are just a few activities islanders enjoy.
Transportation includes water taxis and road taxis which are readily available, as well as sporadic shuttle services or minibuses.  Cars, 4-wheelers, mopeds and bikes can be rented by the hour, day or week.  Although once under the British authority, people drive on the right side of the road here on the island.
Bay Islands Honduras
Your Roatan REALTOR can help, guide and educate, locating the perfect location on Roatan or Utila.  Real estate in the Bay Islands are becoming some of the most sought after properties in the Caribbean, yet still available at affordable prices. As the world seeks out calm atmospheres to temper stress, returning to a simpler life has taken hold. And there's no better place to live than the tropical Bay Islands of Honduras.
Snorkeling, scuba diving, kayaking, and even golfing are only some of the island activities that can be steps away, or just down the road, from your door. Island real estate only increases in value, and there's no better investment than one you can enjoy physically while growing your children's inheritance.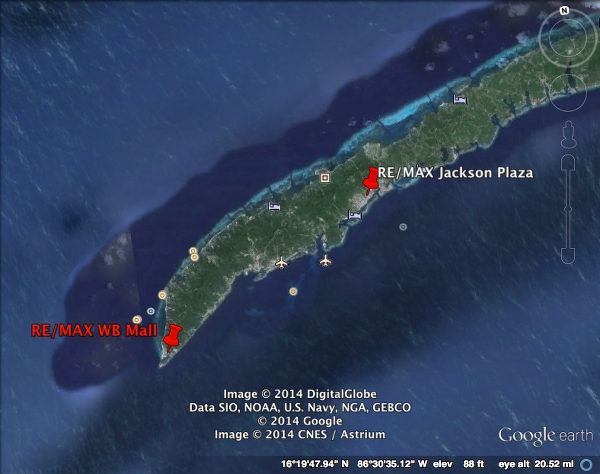 Our Office Locations
As you view the Bay Islands Honduras properties, you will begin to realize the benefit of owning Utila or Roatan real estate. You'll be getting away from it all in the tropics, yet enjoy modern-day infrastructure and amenities. After reviewing your options, give me a call, send an email, or use our contact form, and let me show you how you can make your dream a reality.